The beach is one of my favorite places to go. I like the sand, the ocean, the sun, finding sharks teeth, and collecting seashells. As any beachcomber knows, those shells will definitely add up. A few decent trips to the beach and you're utterly overrun. What do you do with them? Do you display them or do you keep them in a box? I'm not a fan of traditional shell crafts (shells lining mirrors, bowls, shells made into candle holders, etc.), so what do do with all those shells is a big problem for me.
I had started to think that maybe I shouldn't pick up any shells at all.That idea quickly went out the window ... I like finding pretty and interesting shells too much to not pick up any. Plus, my daughter (who is 3) likes to pick them up. She's not very discriminating when it comes to which shells she likes, so she ends up with a bunch.
Well, as is more and more frequent in my life, PINTEREST to the rescue! I saw
this pin
and quickly added it to my Crafts board.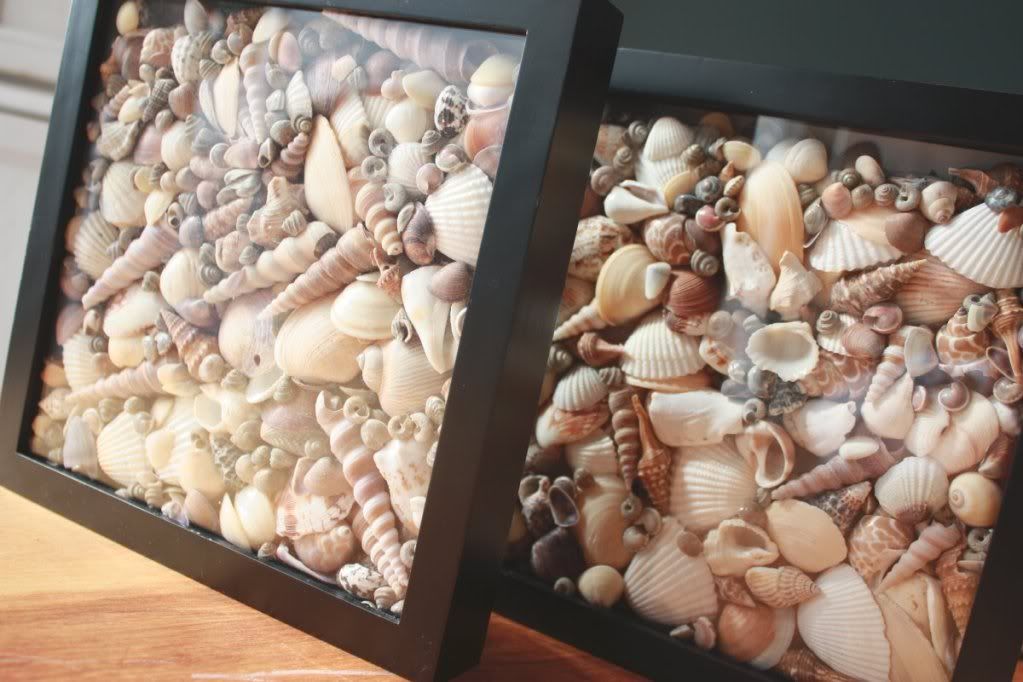 Seashell Shadowboxes
All you do is fill a shadowbox with your favorite shells. That's it*. These Simple Seashell Shadowboxes could not be easier to make. You can display a lot of shells without taking up much space. I used to display my favorite shells on shelves. Trust me, you do NOT want to dust a shelf with lots of seashells on it.
(This paragraph is quite a tongue twister!)
I have many, many seashells, but I wanted to start out small. Here's how my shadowbox turned out. There may be a few more tweaks made to it, but I'm pretty happy with it overall.
Shells from Amelia Island
* I say that's all there is to it. Actually, I rubbed my shells with mineral oil first. It helps bring out the color in most of the shells. I rubbed a generous coat on all the shells, put them in a bowl and let them sit overnight (actually, it was more like a week or two because I'm slow to get back around to things). Then, I gave them another wiping before putting them in the shadowbox. Oh, and don't put mineral oil on things like sand dollars -- it doesn't turn out well (the voice of experience is talking here).